LEARN ABOUT KIPP NYC COLLEGE PREP
POWERSCHOOL LOGIN FOR FAMILIES
KIPP STAFF PORTAL RESOURCES & G-DRIVE
REMOTE LEARNING LOGIN (CANVAS)
2021-2022 SCHOOL YEAR ANNOUNCEMENTS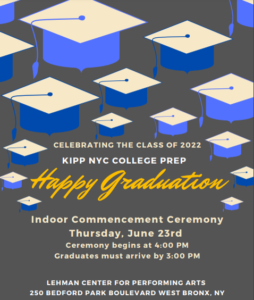 What do I do for remote learning when I have to quarantine?

This page is your guide to remote learning!

If you need to quarantine, you will use this page to help you navigate your remote learning day.

A few reminders:

Your teachers will post asynchronous work every morning.
Your teachers will also host remote office hours twice during the week.
It is not a requirement to attend office hours for all of your classes, but it is your responsibility to keep up with your work. You should be attending office hours to get the help you need to complete your work.
You need to attend your grade-level zoom check-in in the morning to be marked present for attendance while you are remote.

Step 1: Log on to zoom for your grade-level check in. Remember that this is where your attendance is marked while you are remote. Time & links on Canvas.

Step 2: Check the office hours schedule for your teachers / classes. Decide which office hours you are going to attend.

Step 3: Create a quick remote learning schedule for yourself to make sure you are able to complete your assignments and get the academic supports you need.
Canvas Support:
Students: To login to your Student Canvas Account: click here to view a video tutorial and use your KIPP credentials (KIPP email and password).  There is a login button on the main page that will connect you directly to Canvas.
Parents: For the Parent Observer Canvas Account: please check your email for a message titled "'Canvas Registration Complete' saying 'You have been registered for a Canvas account at KIPP NYC!'' Click through the link in your specific email to activate your Canvas Parent Observer Account.
Canvas Parent Observer Account – How To Guide
Student Tech Support: Please email  KIPP Tech support if you are experiencing technical problems with your Chromebook or logging in.  You can also leave a voicemail at 212-991-2615 with your name, the student's name and callback number.
Health and Safety at KIPP NYC Schools
You can find our latest health and safety protocols and resources on our website under 2021-22 School Year FAQ. Here are several important reminders about our policies to begin the year:
Daily Health Survey.

All students (or their families) and staff will respond to the Ruvna daily health survey prior to the start of each school day. Students and staff should stay home when they have signs of any infectious illness and see a health care provider for testing and care.
Social Distancing.

While in the classroom, to the best extent possible, students will maintain a social distance of three feet from each other. For activities such as meals, music, sports, recess, and indoor gym, students will maintain a distance of at least six feet from each other.
Masks.

All staff and students must wear face masks while in our school buildings and on school grounds. This includes all outdoor school activities, including recess and field trips. Students may remove masks while eating or drinking. Masks can be any color or design, as long as it is appropriate for school. 
COVID Testing in School

.

We will test all students during their first week onsite. After this initial round of testing, we will test 10% of students onsite each week. We will test unvaccinated staff each week. Outside of school, please

visit testing sites for children

in your zip code. 
Staff Vaccination.

Our staff are either vaccinated for COVID-19 or they are tested weekly onsite. Additionally, all school staff are submitting a negative COVID-19 PCR test before they return to school, regardless of their vaccination status. 
Health and Safety Guidance 
As a reminder, the COVID-19 vaccine is now widely available for everyone 12 and older. If you'd like to be fully vaccinated you still have time!  We strongly encourage students to get vaccinated.  Also, please check out our Health & Safety Guidance tab for more detailed information and guidance.
COVID-19 Vaccine Incentives and Access
We strongly encourage all of our staff, our families, and students over the age of 12 to receive the vaccine. It is safe, effective, and will not cause COVID. Please see this page from the CDC for more information on the benefits of the vaccine. 
While the vaccine is not mandatory for our staff or students, vaccination allows children to be in the classroom, participate in afterschool activities and sports, and gather with friends safely. It also provides a more stable learning environment because students who are fully vaccinated currently are not required to quarantine if a student in their class has COVID-19. Please also be aware that New York City will soon require people to show vaccination proof to eat inside of a restaurant, see a performance, or visit a fitness center. It is quite possible that the city will add more businesses to this list in the coming weeks.
New York City is now providing incentives, including $100, if you get your first vaccine dose at a New York City-run vaccine location. See list of the incentives below. On our Community Resources page, you can find information about the vaccine, including NYC Health's Vaccine Finder to search for a location near you.
A selection of vaccine incentives provided by NYC:
$100 Prepaid debit card

New York City Football Club tickets

Brooklyn Cyclones tickets

NYC Ferry 10-Ride Pass

Statue of Liberty and accompanying ferry ticket

NYC Public Markets gift cards ($25)

Public Theater annual membership

Two-week membership to Citibike

Snug Harbor family membership

Family fun wristband and free ride on the Cyclone at Luna Park in Coney Island
======
Social Emotional Support and Public Services:
During this challenging time, NYS has set up a new hotline to support students and families who need mental health services. For FREE emotional support, consultation, and referral to a provider, call 1-844-863-9314.
Other resources can be found here at NYC.gov: http://www1.nyc.gov/site/em/resources/covid-19-services-resources.page
NEW Resource: Teen Health & Wellness provides middle and high school students with up-to-date, nonjudgmental, straightforward curricular, and self-help support. Articles are correlated to state, national, and provincial standards, including Common Core Health and Science.
 Topics covered include diseases, drugs, alcohol, nutrition, mental health, suicide, bullying, LGBTQ+ issues, and more. Teen Health & Wellness: Real Life, Real Answers is for educational purposes only. If you have a question on a health or wellness issue, we strongly encourage you to call one of the hotlines (provided on website) to speak to a qualified professional or speak to a trusted adult, such as a parent, teacher, or guidance counselor: http://teenhealthandwellness.com/static/hotlines
Tutoring Resources:
EduMate connects college students with NYC public school students K-12 follow this link: http://www.edumatenyc.org/
Additional Information:
NYSTESOL has published Google Classroom video tutorials in multiple languages

HERE [youtube.com]

The NYCDOE has published remote learning overviews in multiple languages

HERE [schools.nyc.gov]

Please note that some of the information is NOT relevant for charter families
Staff Availability/ Communication Expectations:
Please be advised that staff are virtually available for most of the day and we ask that any messaging, questions or outreach are between the hours of 8:00am and 7:00pm. Please be advised that for any messages and/or assignments submitted after 7:00pm there is potential that you will not receive a response until the next day. In an effort to help everyone to find balance, we wanted to provide everyone with a structure for times of communication.

Together with families and communities, we create joyful, academically excellent schools
that prepare students to pursue the paths they choose—college, career, and beyond—
so they can lead fulfilling lives and build a more just world.
Academics
Students can graduate with a Regents or Advanced Regents Diploma and our school places special emphasis on completing the required coursework and tests to earn an Advanced Regents Diploma, based on the belief that students meeting this higher standard will be prepared to successfully enroll and pass entry-level college coursework. To receive an Advanced Regents Diploma, students must take and pass nine Regents exams: English, three Math, Global History, US History, two Science, and a language other than English. Over 90% of our students enroll in rigorous Advanced Placement (AP), Syracuse University Project Advance (SUPA), or Honors courses. Students have the choice of 19 AP courses and 4 SUPA courses, which can earn them college credits, along with 13 honors courses.
College and Career Counseling
We provide a comprehensive college and career counseling department to ensure our students engage in enriching summer programming, develop individual career plans, are fully prepared for the SAT college entrance exam, and go on to enroll in a college or career opportunity that meets their interests, abilities, and financial needs. Students take part in a two-year College Readiness sequence, consisting of College and Career Readiness (CCR) or Foundations of Career Development (FOCD) in junior year and Senior College and Career Counseling (SCCC) in senior year. Through our coursework and counseling, we have seen amazing results:
95% of our students take the SAT, with over 100 points of growth on average from beginning to end of our College and Career Readiness course.
Over 95% of our students matriculate to college, with over 50% earning spots in supportive and competitive Opportunity Programs, over 65% of our students enrolling in a college that is ranked as Competitive or higher, and over 65% receiving financial aid that fully covers the direct costs of their college.
90% of our students participate in at least one summer opportunity.
Visual and Performing Arts
We offer 24 different art electives in Visual Arts, Graphic Design, Music, Choir, Dance and Drama. We provide students with introductory, advanced and AP level courses. Our after-school programs offer choir, dance, spoken word, drama, step, visual arts, yearbook, Fall play, and Spring musical. Students can participate and perform in over 10 school productions, competitions, and outside performances throughout the school year.
Athletics
KIPP NYC College Prep offers a robust athletics program and was the first charter school to compete in the Public School Athletic League (PSAL). We offer football, soccer, volleyball, cheerleading, basketball, wrestling, baseball, softball, rugby, track and lacrosse. We have 14 varsity programs and three junior varsity programs, for a total of 17 interscholastic sports teams. Additionally, we offer intramural flag football, basketball and kickball to give students the benefits of team support in a less competitive setting. Roughly 30% of our student body participates in our athletic program, and we recently won city championships in Football, Men's Varsity Basketball, Men's Varsity Baseball and Women's Varsity Rugby. Our Cheerleading program has been ranked 8th and 9th in the country the two past seasons, respectively, in the non-tumbling varsity division.
GRADES: 9-12
OPENED: 2009
PRINCIPAL: MONICA SAMUELS
CONTACT
201 E. 144th St.,
Bronx, NY 10451
P: (212) 991-2626
F: (347) 862-9679
collegeprep@kippnyc.org